Björn and Henrik are the latest additions to our super talented Algoryx team.
Like everyone else, we worried that the pandemic would cause problems to our company, Kenneth Bodin, CEO at Algoryx tells. However, we have kept growing and now we're accelerating, and I am very glad to welcome these two very talented guys to our team!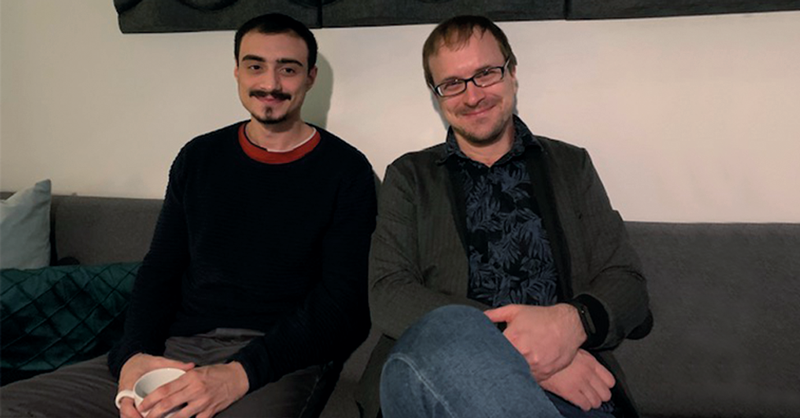 Björn will be working with constructing and analyzing mechanical systems using our software Algoryx Momentum. Henrik will continue working on improving our  solver technology in our product team.
Björn and Henrik, how does it feel to start working on Algoryx?
Björn: Awesome. This place is a goldmine for people interested in physics, mathematics, and computer science. Co-workers are friendly and helpful.
Henrik: It feels great. It is also my first job after graduating from the university which makes it a bit extra exciting.
What made you apply for this particular job?
Björn: I wrote my MSc thesis at the UMIT Research Lab at Umeå University, where I studied soil compaction. Dr Martin Servin was my supervisor, who is also a co-founder of Algoryx. You do the math 🙂
Henrik: I have studied Computing Science at Umeå University and did my MSc project at Algoryx on new solver technologies. I had Dr Claude Lacoursière as my supervisor and after my thesis project I was offered a job. I'm excited to continue the work I started in my thesis project.
What is your background?
Björn: I have a MSc Engineering Physics degree from Umeå University.
Henrik: I have studied the MSc program in Computing Science at Umeå University.
What do you do in your spare time?
Björn: You'll often find me working out, in some way or another.
Henrik: As a computer scientist I naturally like to tinker with my computer. I also enjoy playing video games and going out for walks in nature.